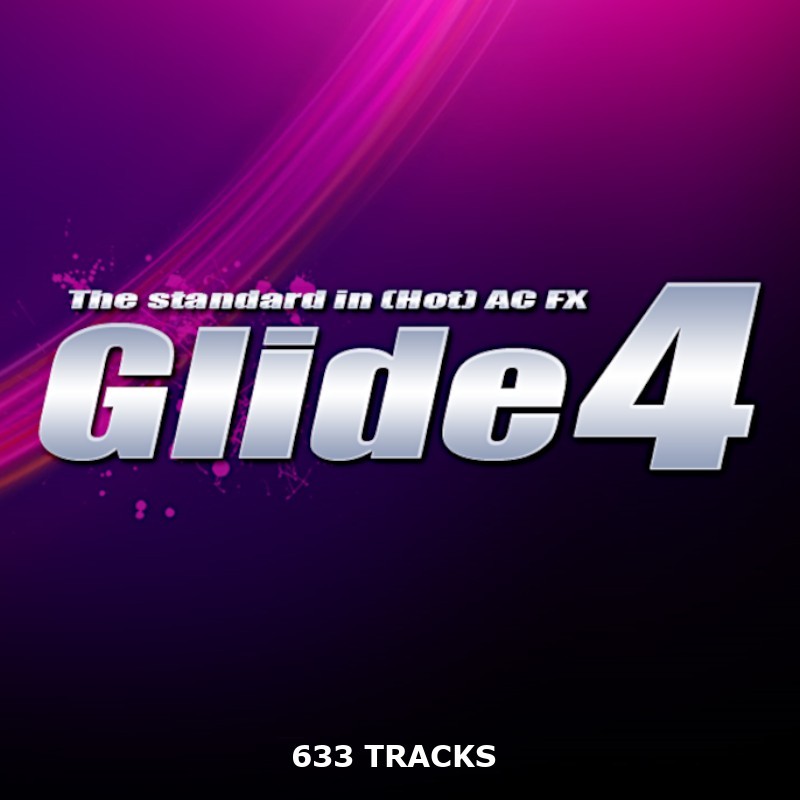  
Glide 4
Are you doing imaging for an AC or Hot AC station? Then you probably recognize this situation where you're losing lots of valuable time looking for the right fx or work part? Especially if you're doing production for a hybrid format where News and Talk are combined with AC music, the tone of voice of your imaging is elementary.
DEMO:
Released in 2018.
You don't want the harsh and in your face CHR sound but you do want your station to sound contemporary, but in a stylish adult way. That's why we at Sticky FX carefully crafted a library that instantly gives you the perfect element for your production.
Glide is already for seven years the absolute standard in AC and Hot AC fx and work parts and this is the fourth library in the Glide series. A huge library with a fresh, contemporary and smooth sound. Exactly how you want your station to sound.
Glide 4 contains over 600 brand new fx & work parts. All elements are specially designed for AC and Hot AC Radio and categorized, so you save time and immediately get the right sound for your production!
The library comes with lots of whooshes in all styles, velocities and intensities. Risers and Impacts from soft and smooth to punchy and big. Beautiful Musical elements like melodic Starters, Stagers, Logos and fx. Glitches, Fly Ins and Hits from big to small and fast to slow. Starters to create great 'back to the music' ID's or start of your promo's with. An incredible amount of Whoosh hits gives you the ability to create seamless transitions between all your programming elements. Beeps & breakers, Combos Wipes and Pads in all kinds of moods and intensities. And then of course this library has some great Beds to talk over or use them for the right sound in your promo's.
Create that modern and adult sound you're looking for. Glide 4 - gives your imaging the perfect feel and flow. And every element fits in seamlessly. Glide 4 is the ultimate audio branding tool for AC and Hot AC formats.
Customers who bought this product also bought